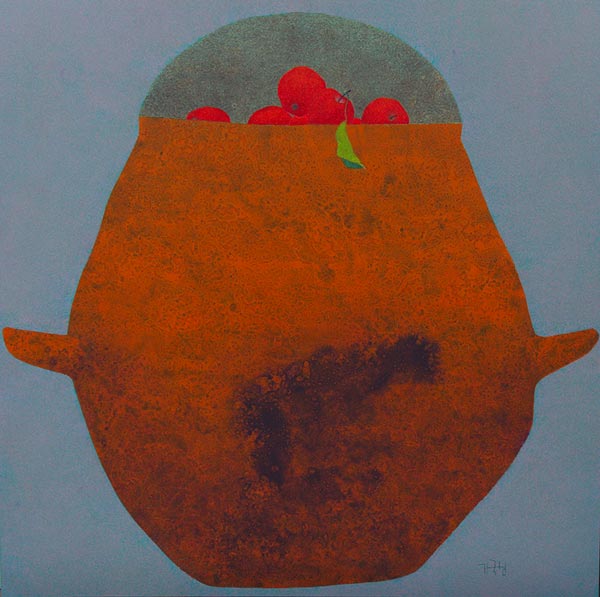 NEW | FEATURES | PREVIEWS | EVENTS
originally published: 27/10/2022
Emotional still life, 51 x 51 inches, oil on canvas, 2022
(HACKENSACK, NJ) — Riverside Gallery presents a solo exhibition of Ga Kook-Hyun's paintings, titled "Alchemy with Representation and Abstraction" in the gallery's first space. The exhibition will run from November 1 to 14, 2022, with an opening on Saturday November 5, Saturday, from 5:00 p.m. to 7:00 p.m.
It is said that Ga does not use references but uses imagination and insight to arrive at his imagery. This is why Ga calls his pieces "Emotional Still Life". Its flowers and vases are richly painted in rich colors and with a fine texture. Flowers do not exist in reality. Ga discovered the water bubble technique 8-9 years ago and began to feel that he was realizing his true vision 4-5 years ago; Ga thinks he is currently going through a golden age as an artist and should carry on with the spirit of a master painter. Ga underwent many different styles and techniques before arriving at his current work. He chose Korean porcelain as his main subject because when he went to overseas art fairs, he realized that the beauty that is essentially Korean is world-class.
By rigorously applying elaborate color patterns to a "blank" form or space, Ga achieves visual depth and forms abstract experiences and sensations that reach a meditative level. In this way, Ga seems to adopt the view that in nothing there is something on an infinitesimal scale, and something is a nothing on an infinitely large scale. The way Ga flattens the form of three-dimensional perspective into flat forms of symbolic and abstract roles is perhaps the main reason Professor Byon argues that Ga's works are in an ambiguous state of abstraction and representation. .
Unlike other artists who place their main subject in an environment of three-dimensional space or interior, Ga places her vases in an abstract, infinitely continuous space that simultaneously centers and decenters the subject.
Ga Kook-Hyun graduated from the Art Education Department of Han-nam University and received his MFA from the Painting Department of Sejong University. He had a total of 38 solo exhibitions in Seoul, Daejon, Paris and metropolitan area (NY), including Gallery Korea, Gallery Christine, Hyundai Art Gallery. He has also participated in Korea Art Fair, Seoul Art Show and KIAF held at COEX in Seoul in the past. He was a sold artist at the Miami Art Fair in 2010, and he has also participated in art fairs in France, Singapore and Hong Kong.
Energy Tuning, acrylic on canvas, 64 x 51 inches
Advertise with New Jersey Stage for $50-$100 per month, click here for more info
---
Jung, Chul will exhibit his abstract paintings in the gallery's second space, titled "Energy Tuning". Jung is a painter who uses abstract marks to create landscapes about the earth and people's relationship with it. Jung strives for a poetic quality from the ephemeral and abstract marks that occupy the paintings as spatial or temporal regions, which the artist intends to be purely abstract but which limit representation due to their suggestive shapes or appearance. . The title of the exhibition, "Energy Tuning", could suggest the type of energy that the earth brings to its inhabitants in the Eastern tradition.
In Jung's earlier series, Chul, its title, which is "The Land I Want to Believe In", suggests a sense of belief about a land and what it has to offer in terms of experiences and lives for people. The concept of "land" appears as an in-between within nature and culture, breaking the binary opposition and its implicit domination of culture over nature. The experience and life that Jung, Chul strives for is one of purity and balance, which benefits the land in which he resides and in which he wants to believe. Jung, Chul equates the essence of nature with motherhood, which is a tremendous structure or being that is so big and deep and is a "lonely wound…that cannot dare to be expressed in words or through language. (artist's statement). What is first seen as a "shared impossibility", according to art critic KyungHan Hong, becomes a beginning that calls for reason in the other as a form of emulation, which Jung, Chul use to "throw up… completely new things with reality". as a substructure.
In Jung, Chul's abstract paintings, one can find connected sensibilities that can be paired as "desire and sadness, loneliness and joy, despair and delight, nobility and cheerfulness, heaviness and lightness, restriction and liberation, etc." as "seeds" of the land cultivated by the people and the artist (metaphorically speaking). These elements activate the lyrical (poetic) elements in the works of Jung, Chul, and they become his pictorial language; even though people say Jung, Chul's paintings are similar to abstract expressionism or have the same solid color as other artist's style, they are not the same because of the mentioned lyrical and emotional elements or seeds .
Jung, Chul is a Korean artist who has had over 30 solo exhibitions and over 300 group exhibitions. He has a teaching career at Chugye University of the Arts, Jungang University and Hannam University. He participated in KIAF, Seoul Art Fair, and many others. His works are in the permanent collection of the National Museum of Modern Art, Korea Development Bank, KB Bank, Seoul Museum of Art, SK Company, Daejeon Art Museum, from Navy Headquarters in Jeju, Joymaru, Daejeon Broadcasting Corp and International Taekwondoon.
The Riverside Gallery is located in The Shops at Riverside (Riverside Square) at One Riverside Square, Suite 201, Hackensack, New Jersey. Hours are 10:00 a.m. to 7:00 p.m. Monday through Saturday, closed Sunday.