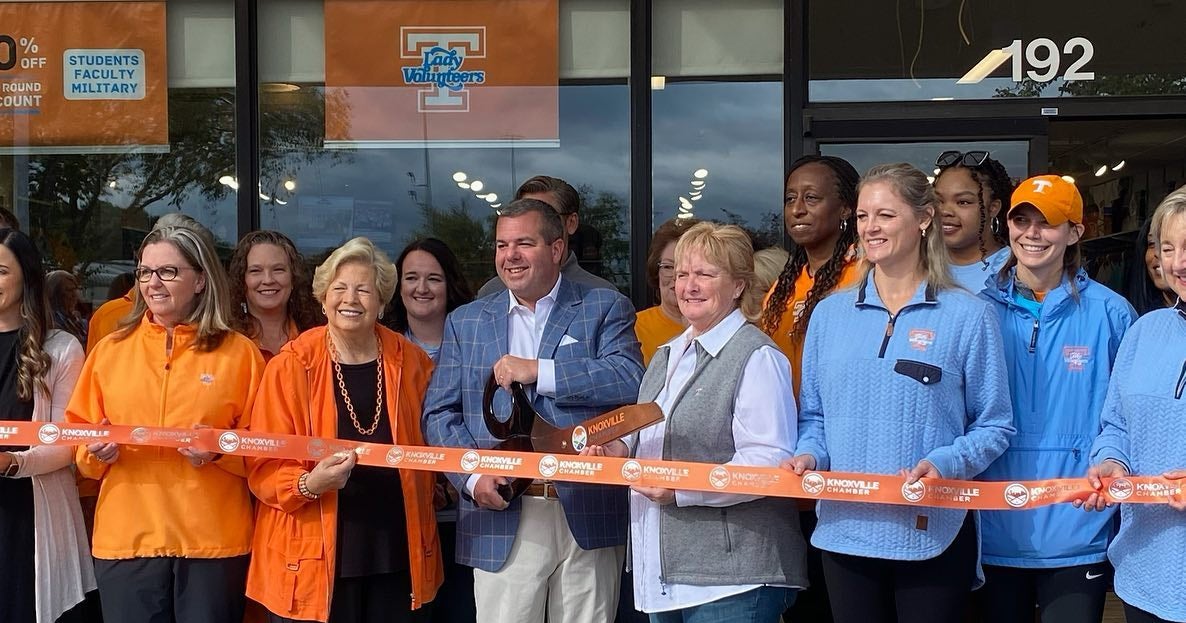 The harsh reality is that schools that don't understand NIL will be left behind in recruiting, on the field and on the national stage. Schools trying to make it to this national stage now have a better route to do so. Powerhouses who think resting on their name will work will be awakened to a new reality in college sports.
Orange Mountain Designs, which opened Oct. 1 in Knoxville after years in Blount County as part of a partnership between store founder Holder and Hall Alumni Jeff Goodfriend, sells apparel and retail items exclusively for the nine Sports Lady Vols. The opening brought in two head coaches, Kellie Harper from basketball and Karen Weekly from softball, as they know the role the store can play in recruiting. Chancellor Donde Plowman and UT Director Emeritus of Women's Athletics Joan Cronan were also in attendance.
NIL players arrived soon after to sign autographs, talk to fans and handle media interviews.
The Lady Vols currently under contract with the Lady Vol Boost (Her) Club are: Edie Darby, Tess Darby, Jasmine Franklin, Jillian Hollingshead, Jordan Horston, Rickea Jackson, Tamari Key, Brooklynn Miles, Justine Pissott, Jasmine Powell, Sara Puckett, Karoline Striplin, Jordan Walker and Kaiya Wynn (basketball); Bailey Davis (golf); McKenna Gibson, Payton Gottshall, Kiki Milloy, Karlyn Pickens, Zaida Puni, Ashley Rogers, Rylie West and Ryleigh White (softball); Jaida Thomas and Giselle Washington (soccer); and Morgahn Fingall, Danielle Mahaffey and JaKya Moore (volleyball).
If international players, such as basketball players Jessie Rennie and Marta Suárez, show up at functions, they cannot be paid, but the Boost (Her) Club can donate to a nonprofit of its choice.
While players may be compensated for retail sales and appearances, community service is also part of the Boost (Her) Club's mission with ties to local nonprofits, such as a camp that the team basketball event held over the summer which benefited Knox Youth Sports.
The next event is the Fall Festival in the Smoky Mountains on Sunday, October 16 from 2-6 p.m. at Elvira's Café, located at 4143 Wears Valley Road in Sevierville. Assorted student-athletes from Lady Vol will play basketball, golf, soccer and other fun games with attendees. Signing sessions and a selfie station will be set up. Admission fees are $25 for ages 13 and up; $15 for ages 3 to 12; and children under 3 are admitted free.
A special Fall Festival t-shirt and custom player jerseys are available for purchase. Tickets are available HERE.
"We want to allow fans to enjoy a beautiful afternoon in the Smoky Mountains, playing games with these amazing young ladies," Holder said. Fans can have real and meaningful interactions. The players really enjoy these events and meeting the fans.
Debby Jennings, longtime director of sports information for women's athletics from 1977 to 2012, was part of a panel convened earlier this year for a panel discussion on the 50th anniversary of the Title IX, its impact on the women's athletics in Tennessee and Lady Vols' legacy of leadership and excellence in women's athletics. The panel, fittingly, gathered next to the statue of Pat Summitt on campus, and the story can be read HERE.
Jennings pointed out during the discussion that the original Boost (Her) Club, which formed in 1979, played a role in propelling Tennessee to the fore amid the sweeping changes to the sport brought by Title IX.
"I remember when we had our first West Coast volleyball player, it was like we had arrived," Jennings said. "Before, if your state touched the Tennessee border, you would probably compete in Tennessee because that's where the recruiting was. You haven't strayed very far from your state's borders. And that's how it was until things changed in 1982 when we joined the NCAA, and then it changed the dynamic.
The original club was way ahead of its time, Jennings said, as it indicated early support for UT women's sports.
The new version of Lady Vols Boost (Her) Club is also ahead of its time, as it navigates historic NCAA legislation that allowed NIL.
Harper said at the opening of Orange Mountain Designs: "I am thrilled as a fan of all Lady Vols but also as a trainer to be able to continue to spread our brand and 'to offer to the community and to players and future players. It's a big deal when we can tell them how important our brand is, when we can tell them how important Lady Vols is in this community and for the department athletics. We can say that, but now we can show them. We can drive them here.
"When you choose to be a Lady Vol, you associate yourself with our brand in today's NIL space. This brand sells. This brand is recognized in this community and, honestly, not just in this community but in This brand is what you can associate yourself with as Lady Vol.