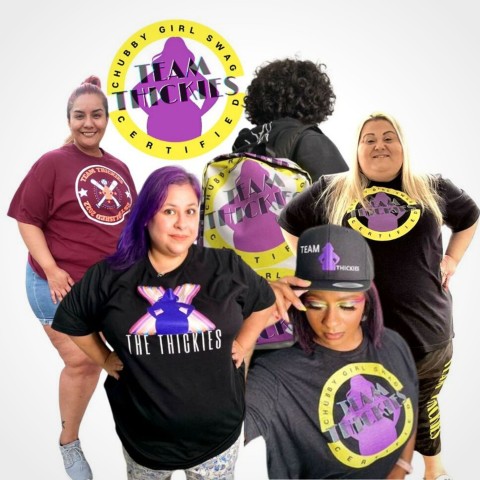 Merchandise is inspired by confident plus size women and the people who support them.
What started as a "work for hire" experiment for Lyric Richardson & MC Jonny T (JTLR) has grown into a movement and initiative in its own right that celebrates women of all sizes and those who love them most. Originally intended as an original song for a group of models and plus-size online personalities, it didn't take long for additional concepts to emerge and materialize into a commercial release of The Thickies; distributed by Digidi and the Orchard, a subsidiary of Sony Music.
"The song functions as the soundtrack to the Team Thickies apparel and merchandise line. Until the release of Chubby Girl Swag last year, it had been years since we (JTLR) had released a song for celebrate the plus size community. Resources and timing have come together to make it happen. The Thickies is a sequel to last year's song. We invite you all to the Team Thickies & Chubby Girl Swag celebration. We have soon something for men with daddy bodies. said MC Jonny T, a popular artist who helps launch Team Thickies.
Fatimah Mirbaha is the CEO of Team Thickies. She states that "Team Thickies represents the empowerment of women who own their strengths and the people who support them. We want to celebrate the contribution and beauty of plus-size bodies. Team Thickies is a forward-thinking brand for plus-size women and people who support their causes. We include all adults, regardless of culture or gender."
Team Thickies t-shirt sizes are available up to 5XL. Other items available are tote bags, towels, backpacks, drawstring bags, sports bottles, and stickers. The upcoming fall clothing line will include sweatshirts and hoodies. For those who wish to represent the brand, Team Thickies offers an ambassador program.
For more details visit: https://teamthickies.com or email: [email protected]
For updates, follow the Thickies team on Instagram: https://www.instagram.com/chubbygirlswag/
Media Contact
Company Name: Team thick
Contact person: Media Relations
E-mail: Send an email
Town: Los Angeles
State: California
Country: United States
Website: teamthickies.com