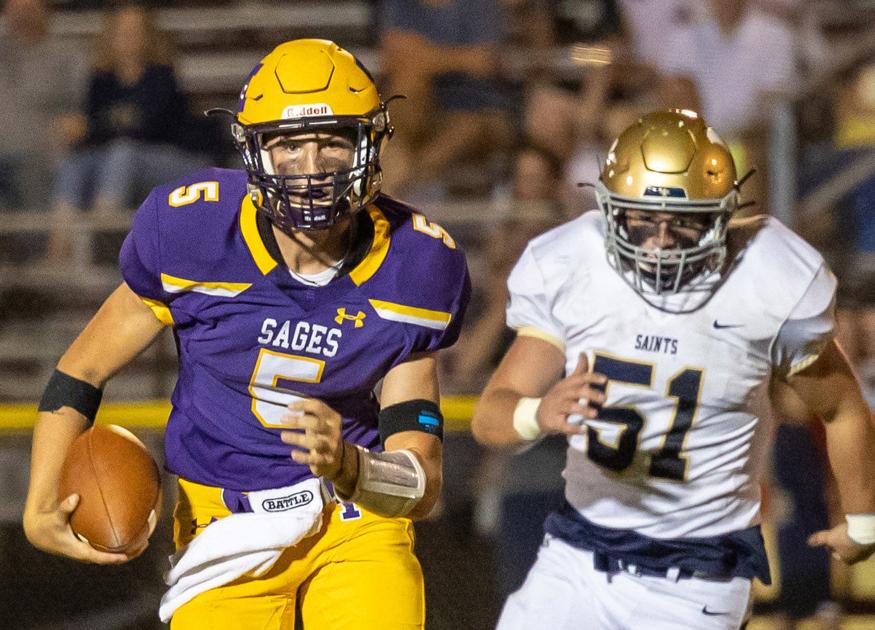 Wise Men Head To IPC Tilt With 'Playoff Game' vibe
MONTICELLO – Cully Welter took over football from Monticello after a 0-9 season for the Sages in 2008.
Avoiding winless campaigns was not a problem for Welter in the following years.
Monticello secured his 12th playoff spot in Welter's 13-year tenure thanks to a 28-0 shutout against Rantoul last Friday. The only 'hiccup' came last spring, when the IHSA failed to make a playoff amid the COVID-19 pandemic.
The Sages improved to 6-0 with their win over the Eagles and are 107-30 under Welter, going 5-5 in 2010, the only non-winning season.
"Every year is a new year, so you just want the experience to be as positive as possible for these kids," Welter said. "I was lucky to have a lot of good players and very good assistant coaches. Any success that we have is certainly theirs.
"It's nice to be in the playoffs every year, and I hope it never ends."
Monticello will be involved in this season's playoffs, which begin with the first round games on October 29 and 30. It remains to be seen how the Sages get into these playoffs.
Of course, Monticello is undefeated right now. But his last three regular season games present a difficult test: at Paxton-Buckley-Loda (4-2) this Friday, at Prairie Central (5-1) on Matchday 8 and at home against Unity (6-0) in Week. 9.
"We are still a work in progress," Welter said. "But 6-0 can turn into 6-3 in the blink of an eye with the schedule we have left."
Many Sages will need to step up their efforts to make the 9-0 regular season mark a reality.
Senior quarterback Joey Sprinkle continues to be consistently efficient. He completed 63 percent of his 140 attempted passes for 1,551 yards and 15 touchdowns against three interceptions. Sprinkle also added 373 rushing yards.
Outperforming Sprinkle in the running department was senior Jacob Tackett, who averaged 6.2 yards per carry on the road for 409 yards and six touchdowns.
"If you can give it a crease it can go a long way," Welter said of Tackett. "Even if he doesn't carry the ball 30 times per game, he will contribute wherever he can help the team."
Sprinkle's link with senior Triston Foran (42 catches, 716 yards, eight touchdowns) is well documented. That said, junior Spencer Mitze (17 catches, 240 yards) has also carved out a receiving niche for himself.
"I think he set the record for most tackles on the 1-yard line," a Welter said with a laugh, referring to Mitze's lack of a single touchdown in six games despite the second. higher number of team captures. "He rides good roads and understands what he's supposed to do. Its emergence was useful.
At linebacker, Mitze (27 tackles, 61/2 tackles for loss, 11/2 sacks) and senior Ashton Wassom (331/2 tackles, five tackles for loss) are at the forefront of a Sages defense that allowed just 12 points per game on average.
Welter said he was also impressed with senior defensive end Kaleb Reid (11 tackles, five tackles for loss, three sacks), junior free safety Drew Sheppard (17 1/2 tackles, two tackles for loss, one interception) and senior linebacker Wyatt Kenyon (17 tackles, three tackles for loss).
"We're going to have to hold on until the physical game (PBL)," Welter said. "I was very impressed with their offensive balance, the difficulty of (Senior Panthers Tyler Smith) and their size up front.
This will be the first time Monticello and PBL will face each other as opponents of the Illini Prairie Conference.
"Our athletic director said it looked like a playoff game," Welter said. The Sages and the Panthers met in a Class 2A first round match in 1991, with Monticello winning 28-6.
"It will be a fun new experience," Welter added, "and I hope it's a good game."
Blue Devils back on track after tough loss
VILLA GROVE – Heath Wilson and his Villa Grove soccer players resented Cumberland's 47-8 loss to the Blue Devils at Russ Ghere Field on September 24.
But the Blue Devils also haven't let a loss to a previously state-ranked opponent derail their season. As evidenced by last Friday's 37-14 triumph at Sangamon Valley which prevents Villa Grove (4-2) from a win from becoming playoff eligible.
"We just took (the loss) as how we have to change the way we perform," said Wilson, in his fourth season with the Blue Devils. "We had to go back to some of the basics that we knew but… weren't performed in Cumberland. It just brought us back to Earth and we worked a lot harder. "
Villa Grove topped Sangamon Valley 22-0 in the first half of the Week 6 game and didn't give up, limiting the Storm to just 196 total yards of attack.
It was a necessary breakthrough for the Blue Devils' defense, which allowed 35 or more points in three different games this fall.
"We have changed our mindset," Wilson said. "If we come back to the playoffs and get more wins, our defense will have to step up for us."
Senior Tyler Wilson and junior Parker Stevens have proven to be important as linebackers, and the Villa Grove secondary is powered by junior free safety Brady Clodfelder, junior cornerback Robert Francher and sophomore cornerback Layne Rund.
"They are improving and playing really well on the home stretch," said Heath Wilson.
The Blue Devils offense typically plays out like junior running back Luke Zimmerman.
This was certainly the case against Sangamon Valley, with Zimmerman ripping through the Storm defense for 165 yards and two touchdowns in just 13 carries.
"Luke is our workhorse on and off the pitch," Wilson said. "His goal is to play college football on a large scale, and his work ethic is huge."
Senior quarterback Liam Barr proved stable, throwing and running for a touchdown last Friday. An offensive line that includes former All-Lincoln Prairie Conference pick Deandre Reinhart and Daelin Price – both senior – opens up space for Zimmerman and generally keeps Barr clean.
The Blue Devils' first playoff shot comes with a home kickoff Friday at 7 p.m. against Tri-County (2-4). The game serves as a senior night at Villa Grove and a 'pink night' for breast cancer awareness.
"This is the class I started the program with four years ago," Wilson said. "So it's kind of a special class, stick to it for four years and give it your all."
Knights take first victory in Schubert's tenure
FARMER CITY – Matt Schubert contacted then-Blue Ridge football coach Bob Sutton five years ago with the aim of "holding a camera or something," as Schubert puts it.
Schubert, a native of LeRoy, just wanted to somehow contribute to the area's high school football scene.
"About halfway through this season (Sutton) sidelined me," Schubert said, "and from there I was an assistant coach."
Much has changed since then.
The Knights are now part of the Illinois 8-Man Association. And Schubert is now their head coach, starting this season after Sutton retired.
"No idea what was going to happen (when I started with the team)," Schubert said.
Blue Ridge has lost its first five games, but won 28-12 at Metro East Lutheran last Friday night in Edwardsville.
"It was a huge morale booster," said Schubert. "The trip wasn't that great, but Metro East is a stand-up program, and it was good to get the first win under my belt. And a bunch of these young kids, it was their first win, so it was huge.
Schubert's roster has only 17 players at this point. Not very unusual for the 8 player game.
But it's a young list. The Knights' only senior is Kaden Weisman, who was the team's quarterback but had to change positions after a hand injury. Freshman Joey Cole is now the quarterback.
Freshman Jayden Weisman started racing at the start of the season but is now sidelined with injury. Sophomore Cole Pemble stepped up in the backfield, posting 147 yards and two touchdowns in last week's win. Junior Riley Pruitt and second student Cuda Cline lead the Knights defense as linebackers.
Blue Ridge can start a winning streak on Friday when they host Milford / Cissna Park (3-3).
"We're going to come into this game with the mentality that we can win and we're going to win," Schubert said. "But we respect Milford a lot."